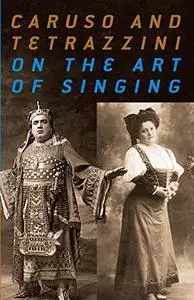 Enrico Caruso, Luisa Tetrazzini, "Caruso and Tetrazzini On the Art of Singing"
English | 2016 | ISBN: 1546695095, 9354757545, 1169679358 | 61 pages | EPUB | 0.43 MB
Two of opera's greatest names offer encouragement and useful advice to aspiring singers in this classic guide. Tenor Enrico Caruso and coloratura soprano Luisa Tetrazzini employ nontechnical terms to provide an informal vocalist's anatomy, with instructions for the proper training, care, and disposition of the tongue, lungs, diaphragm, mouth, and the voice itself.
Tetrazzini deals with the foundations of singing in breath control; tone emission and attack; and, sending aspiring performers to the mirror, facial expression and dress. Caruso remarks on tone production; such faults as the "white voice" and "goat voice"; the necessity of good diction; the role of diet; and the part superstition plays in certain singers' performances. These consummate artists show great charm and presence as writers, and this little book is a great pleasure to read.