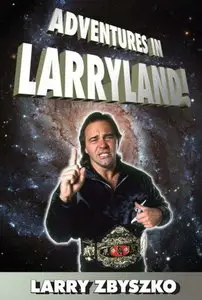 Larry Zbyszko "Adventures in Larryland!: Life in Professional Wrestling"
Publisher: Ecw Press 2008 | 240 Pages | ISBN: 1550228269 | PDF | 2.2 MB
Wrestling's self-proclaimed "Living Legend" may never wear a championship belt again, but he's definitely not down for the count, as this memoir shows in its entertaining, often hilarious story of a remarkable ascent to wrestling notoriety. Voted Rookie of the Year in 1974, Larry Zbyszko enjoyed 30 glorious years as a top draw in the wild and wacky world of professional wrestling. Attendance records were shattered when he wrestled the original "Living Legend," Bruno Sammartino, in 1980 and won by hitting his former mentor with a chair—a rarity at the time. Chronicling Zbysko's transformation from baby-faced hero to one of the most hated wrestlers of his time, this uninhibited narrative reveals an insider's view of some of the most successful and controversial stories and scandals in pro-wrestling history.