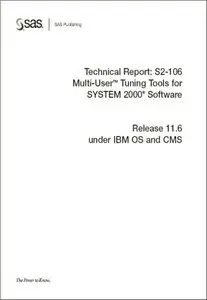 SAS Institute Inc.,"Multi-User Tuning Tools for SYSTEM 2000® Software"
Publisher: SAS Publishing | ISBN: 1555441580 | edition January 1, 1992 | PDF | 70 pages | 10 mb
Documents the Tuning Tools feature for SYSTEM 2000 Multi-User software. The Multi-User status console commands display details about thread, scratch pad, buffer, and queue usage. The Accounting and Diagnostic Log reports display information about system performance or about specific jobs and job types running in the system. Data are extracted from these logs into a SAS data set for use in reports, and they are summarized into historical SAS data sets for more general monthly, quarterly, or annual reports. Also supports Version 12.