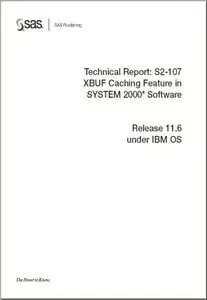 SAS Institute Inc.,"XBUF Caching Feature in SYSTEM 2000® Software"
Publisher: SAS Publishing | ISBN: 1555441599 | edition January 1, 1992 | PDF | 92 pages | 15 mb
Documents the Extended Buffer Manager (XBUF) feature, which provides several caching techniques for both single-user and Multi-User jobs. These techniques include simple "front-end" XBUF macros, with which you can take advantage of dual logging, statistics gathering, cache modeling, and caching of database files without having to employ the more complicated CACHE macro. Later, if you need to tailor caching for special applications, you can refer to the CACHE macro documentation also included in this report. Also supports Version 12.