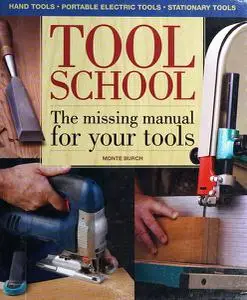 Tool School: The Missing Manual For Your Tools! by Monte Burch
English | 2008 | ISBN: 1558708510 | 242 pages | PDF | 107 MB
For many woodworkers, buying new tools can mean a lot of guesswork and experimentation. Tool School eliminates the trepidation, saves time, and allows woodworkers to start using their tools correctly and safely. It covers everything from what to look for when purchasing tools to correct usage for safety and accuracy. Both portable and stationary woodworking tools are covered through extensive photography and illustrations. These days most tools come with what amounts to a pamphlet of safety advice that contains little information about how things work - this book is the missing instruction manual.
Buy Or Renew Premium From My Links To Support Me,
It Inspires Me To Work Better For You! Thanks!