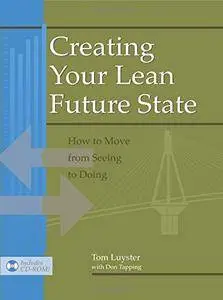 Creating Your Lean Future State: How to Move from Seeing to Doing by Tom Luyster
English | 2014 | ISBN: 1563272482 | 144 Pages | PDF | 1.33 MB
Move beyond Value Stream Mapping and Create Your Lean Future
In Creating Your Lean Future State: How to Move from Seeing to Doing, Tom Luyster, with Don Tapping, details the implementation of lean after the creation of current and future state maps.
This book is a follow-up to the successful Value Stream Management: Eight Steps to Planning, Mapping and Sustaining Lean Improvements. It follows the case study of a manufacturing company that has already created a Future State Map, with the authors showing step-by-step how to focus on key information, visually manage product flow, and level production.
Get the benefits promised by your future state map, and implement a lean system that will stick without backsliding.