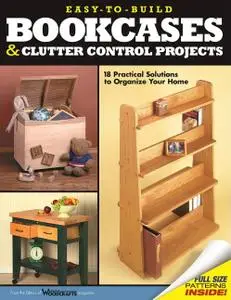 Easy-to-Build Bookcases and Clutter Control Projects: 18 Practical Solutions to Organize Your Home
The Editors Of Weekend Woodcrafts | 2004 | ISBN: 1565232488 | 95 pages | PDF | 107 MB
Get organized with these easy-to-build projects!18 easy projects
include bookshelves, CD cases, end tables, potting benches, and more
Full-size patterns
are provided for each project, and are perforated for easy removal
Step-by-step instructions
and full color photos walk you through each project
Material and supply lists
for every project, presented in an easy-to-follow format
Use your woodworking skills to create practical storage solutions for your home! From CD cases and end tables to potting benches and more, you will find projects to organize nearly every room of the house.
Each of the 18 easy-to-build projects inside Easy-to-Build Bookcases & Clutter Control Projects comes complete with a full-size pattern, handily perforated for easy removal.
The projects in this book are compiled from the pages of Weekend Woodcrafts magazine, a monthly publication that has been bringing practical woodworking projects to readers for over a decade.
With practical solutions to organize your home, the projects in this book will help to simplify your life—while you get the satisfaction of using what you've made! Build it, use it, and enjoy!