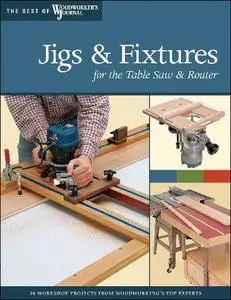 Jigs & Fixtures for the Table Saw & Router: Get the Most from Your Tools with Shop Projects from Woodworking's Top Experts by Chris Marshall, John English, Rob Johnstone, Bill Hylton, Chris Inman, Rick White, Ian Kirby, Jeff Greef
English | April 1, 2007 | ISBN: 1565233255 | EPUB | 160 pages | 77.6 MB
Get the most from your tools with shop projects from woodworking's top experts!
26 projects for well-designed and innovative jigs & fixtures to make productive enhancements to your table saw and router
Exploded & technical drawings, detailed plans, and material lists for each project
Step-by-step instructions are easy-to-follow and ensure your finished project is well-built
Helpful tips and in-depth instruction from the experts
The table saw and the router are the heart of any active woodworking shop. It's no surprise then that woodworkers will spend a great deal of time designing and building the jigs and fixtures to maximize the productivity of these important tools.
You can display your craftsmanship and get the most out of your table saw and router with these 26 ingenious projects from the pages of Woodworker's Journal, America's woodworking authority.
For woodworkers of all skill levels, each jig and fixture project will make complicated woodworking techniques easier, faster, and safer. Like all Woodworker's Journal projects, each one features detailed plans, material lists, and in-depth instruction and tips from a pro.
Among the projects featured are a precision cross cut jig for the table saw, circle cutting jig for the router, and adjustable box joint jig for the table saw.
This is the essential reference for any woodworker seeking to maximize the productivity of their table saw and router!