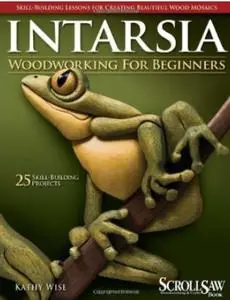 Intarsia Woodworking for Beginners: Skill-Building Lessons for Creating Beautiful Wood Mosaics: 25 Skill-Building Projects (Fox Chapel Publishing) Step-by-Step Instructions, Patterns, Tips & Tricks by Kathy Wise
English | 2010-02-01 | ISBN: 1565234421 | PDF | 127 pages | 13 MB
With more than 40 skill building lessons, "Intarsia Woodworking for Beginners" takes the reader on a journey from the concepts and basics of working with an intarsia pattern, cutting, sanding, gluing, creating a backer board and finishing, to techniques that will take a project to the next level, such as staining, shims, overlays, laminations, wood burning and carving texture. With the projects divided into beginner, intermediate beginner and advanced beginner, this easy to follow book includes step-by-step instructions, over 20 patterns with reference photos, material lists and tips and hints. Kathy's progressive teaching style offers something for anyone working with inlaid wood. The lessons not only cover the basics, but also describe details to look out for like the nuances of working with multiple shades of wood or the best way to create colour breaks.
Intarsia - the making of pictures (rom pieces of solid timber - is one of the less commonly pursued woodworking disciplines. This is unfortunate, since the modern scrollsaw makes it easier than ever to do this work. It's impossible to say when Intarsia was first developed. Some believe it was invented by the Ancient Egyptians, some, by the Romans. The only certainty is that it was very popular in Italy during the lSth century and examples of lntarsia have been found in Italy and southern Germany dating from as long as 200 years before that. But, by the 17th century, Intarsia had virtually disappeared, having been replaced by marquetry and inlay. Since the 1970's, the craft has enjoyed a revival which now appears to be gathering pace. This book is essentially a collection of 2S projects of varying difficulty. The author is a highly successful artist resl)onsible for the design of more than a 110Usand animal figure and giftware items that have been sold worldwide. The first project in the book, a Goldfish, explains the basic intarsia techniques for simple intarsia patterns, how to cut and shape the pieces and how to glue them together. The second project, a Butterfly, introduces multiple colour work. The third project brings in discussion of overlays, shims (to add a 3-D effect), lamination and calVing. By the beginning of the fourth project, most of the important methods have been described and the space devoted to each project becomes smaller, consisting of list of materials and some quick tips to help ensure the work is completed satisfactorily. The projects cover a wide range from a horse's head, a train shaped photo frame and a lighthouse, to a small girl wearing boots, a lily cross and a racoon. The book is well illustrated with excellent photos and useful drawings. Aimed at the beginner rather than the very experi enced maker of Intarsia, it is obviously intended to help in the building of skills so as to go on to even more interesting and formidable work.
My nickname -
interes