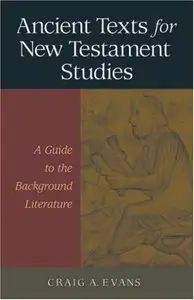 Ancient Texts For New Testament Studies: A Guide To The Background Literature
Publisher: Hendrickson Publishers | ISBN: 1565634098 | edition 2005 | PDF | 539 pages | 24,4 mb
One of the daunting challenges facing the New Testament interpreter is achieving familiarity with the immense corpus of Greco-Roman, Jewish, and Pagan primary source materials. From the Paraphrase of Shem to Pesiqta Rabbati, scholars and students alike must have a fundamental understanding of these documents' content, provenance, and place in NT interpretation. But achieving even an elementary facility with this literature often requires years of experience or a photographic memory. Evans's dexterous survey—a thoroughly revised and significantly expanded edition of his Noncanonical Writings and New Testament Interpretation—amasses the requisite details of date, language, text, translation, and general bibliography. Evans also evaluates the materials' relevance for interpreting the NT. The vast range of literature examined includes the Old Testament apocrypha, the Old Testament pseudepigrapha, the Dead Sea Scrolls, assorted ancient translations of the Old Testament and the Targum paraphrases, Philo and Josephus, Rabbinic texts, the New Testament pseudepigrapha, the early church fathers, various gnostic writings, and more. Six appendixes, including a list of quotations, allusions, and parallels to the NT, and a comparison of Jesus' parables with those of the rabbis will further save the interpreter precious time.