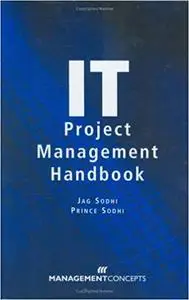 Jag Sodhi, Prince Sodhi, "IT Project Management Handbook"
English | 2001 | ISBN: 1567260985 | PDF | pages: 275 | 2.5 mb
Now you can manage IT projects quickly, easily, on time, and on budget!
IT project management has developed into a complex process with a broader scope of responsibilities than ever before. Here is the newest and most comprehensive book to offer winning insights and strategies on how to manage every step of the process. Written by two of this country's leading experts on IT Project Management, this extensive yet easy-to-use volume will give you the tools you need to successfully navigate your next IT project.
You'll learn how to avoid cost overruns and schedule delays, meet customer requirements, take control of budgets and resource allocation, build a successful team, and put to use many more tried-and-true methods of project management. The handbook includes a completely up-to-date overview of the best Internet services, current software, and repositories available via the Internet along with networking, e-commerce, reuse, prototype, modeling and simulations.
It's all contained in this user-friendly handbook that will soon become the foundation for every IT project you manage … or take part in. Based on real-world practical experience and case studies, the Handbook will give you the framework to manage, improve, and build greater accuracy into every phase of your IT project management.
Here are just some of the systems, methods, tools, case studies, and techniques covered:
* IT Project Planning and Development Life Cycle Phases * Identifying Users, Customers, and Stakeholders * Customer Requirements Management * Project Modeling and Simulation * Customer Acceptance Criteria * Project Control and Recovery Mechanisms * Project Budgeting, Staffing, and Scheduling * Function Point and Earned Value Methods * The Gantt Chart, PERT Chart, and CPM * Risk Management – Assessment, Mitigation, Monitoring, and Reporting Plan * System Management Standard * Project Measurement Schema * Project management Tools – Microsoft Project, Kidasa Software's Fast Track Schedule * Project Management Quality Control Mechanism * IT Networks and Internet Taxonomy * Wireless Technology, E-Commerce, and M-Commerce * System Software LifeCycle Model * System Integration Techniques * System Testing and Evaluation * Customer Satisfaction