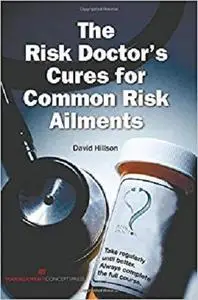 The Risk Doctor's Cures for Common Risk Ailments by David Hillson
English | ISBN: 156726459X | 222 pages | EPUB | August 1, 2014 | 3.32 Mb
The Risk Doctor's Cures for Common Risk Ailments offers tried-and-true cures for risk management problems at both the organizational and project levels. Written by noted risk management consultant David Hillson, aka The Risk Doctor, this book gives practical advice based on sound risk management principles and real-life cases. Using the medical metaphor, Dr. Hillson prescribes treatment for serious issues that can lead to project or business failure. These common risk management ailments include risk blindness, risk amnesia, risk muteness, risk obesity, risk anorexia, risk depression, and risk myopia. Proper risk management is essential to project and business success but is often misunderstood and inappropriately applied at all levels of the organization. This book makes the basics comprehensible and the application of sound risk management workable. Follow The Risk Doctor's recommended treatment plan and begin a fast recovery from risk ailments that have troubled your projects and your business—and look forward to a future filled with the rewards of a healthy approach to risk management!