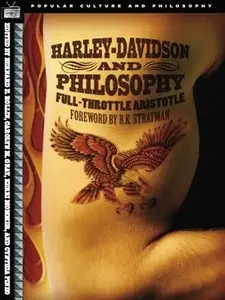 Harley-Davidson and Philosophy: Full-Throttle Aristotle (Popular Culture and Philosophy) by Rollin, Bernard E., Pineo, Cynthia, Mommer, Kerri and Gray, Carolyn M.
English | 2006 | ISBN: 156731922X , 081269595X | ISBN-13: 9781567319224 , 9780812695953 | 209 pages | EPUB | 1,7 MB
It's no wonder descriptions of riding often resemble the words of Asian mystics and Jedi knights: The ride causes your senses to open completely. You experience only the present, the now. Readers who prefer revving a Harley to meditating in a Zen garden know that biking is just as contemplative as chanting in the lotus position.
Here, philosopher-bikers explore this seeming dichotomy, expounding on intriguing questions such as: Why are the motorcycles the real stars of Easy Rider? What would Marx and Foucault say about Harley riders' tight leather garb? What's it like to live a dual life as a philosophy professor who wrenches his own 1965 Electra Glide? Would Jesus hang out in a biker bar or a coffeehouse? And more importantly, would He ride a Harley or a Honda? These witty, provocative essays give readers and riders a new appreciation of what it means to become one with the road.