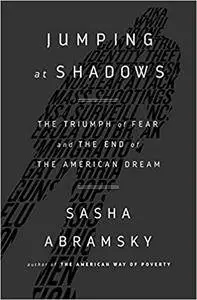 Sasha Abramsky, "Jumping at Shadows: The Triumph of Fear and the End of the American Dream"
ISBN: 1568585195 | 2017 | EPUB | 336 pages | 929 KB
Why is an unarmed young black woman who knocks on a stranger's front door to ask for help after her car breaks down perceived to be so threatening that he shoots her dead? Why do we fear infrequent acts of terrorism more far more common acts of violence? Why does a disease like Ebola, which killed only a handful of Americans, provoke panic, whereas the flu–which kills tens of thousands each year–is dismissed with a yawn?
Jumping at Shadows is Sasha Abramsky's searing account of America's most dangerous epidemic: irrational fear. Taking readers on a dramatic journey through a divided nation, where everything from immigration to disease, gun control to health care has become fodder for fearmongers and conspiracists, he delivers an eye-popping analysis of our misconceptions about risk and threats. What emerges is a shocking portrait of a political and cultural landscape that is, increasingly, defined by our worst fears and rampant anxieties.
Ultimately, Abramsky shows that how we calculate risk and deal with fear can teach us a great deal about ourselves, exposing deeply ingrained strains of racism, classism, and xenophobia within our culture, as well as our growing susceptibility to the toxic messages of demagogues