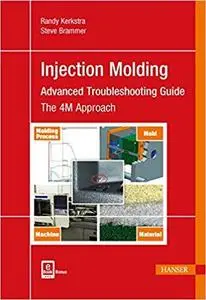 Injection Molding: Advanced Troubleshooting Guide: The 4M Approach by Randy Kerkstra, Steve Brammer
English | ISBN: 1569906459 | 491 pages | EPUB | June 1, 2018 | 16 Mb
This highly practical troubleshooting guide solves problems at the machine systematically and quickly. Drawing on a wealth of hands-on experience from the authors, who have built strong reputations in the field, the book is structured by type of problem/solution. Thus, it is an ideal reference to be consulted at the machine.
Included is valuable information on robust process windows, cycle time evaluations, scrap savings, and runners/gates with no existing standard in the industry. No other book provides the unique insights found here.