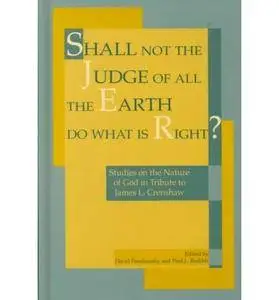 Paul L. Redditt, David Penchansky, "Shall Not the Judge of All the Earth Do What is Right?: Studies on the Nature of God in Tribute to James L. Crenshaw"
2000 | pages: 305 | ISBN: 1575060434 | PDF | 1,7 mb
Does God, in fact, always show love toward those who love him and faithfully serve him? Even apart from the fact that God punishes those who clearly deserve his wrath, and even apart from his hostility to Israel's enemies, what do we do with the not insignificant number of passages in the Old Testament/Hebrew Bible where it could be said that he turns against his own people or members of that people, attacking them without cause, or at least with excessive violence?
Professor James Crenshaw, perhaps more than any other single scholar of this generation, has led the way into discussion of this pivotal matter, and the essays included in this volume are based on or react to his seminal contributions to the topic.
My Link