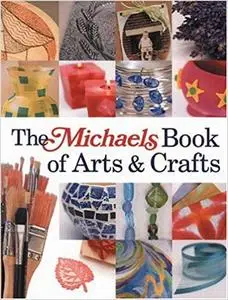 Lark, "The Michaels Book of Arts & Crafts"
English | 2003 | ISBN: 1579905307 | PDF | pages: 437 | 130.6 mb
From Michaels–America's largest specialty retailer of arts and crafts merchandise and the place to get supplies for painting, floral and home décor, needlework, scrapbooking, and more–comes an extraordinarily big, beautiful, and encyclopedic collection of techniques and 175 projects. Whatever a crafter's pleasure, it is in here, from beading and woodworking to glass and fabric crafts. The 30 subject areas are divided into 9 chapters that all feature a basic instructions section packed with plentiful color pictures and designer tips; 5 to 10 projects; and a two-page spread of gallery photos of additional projects for inspiration. What's included in this unequalled treasure trove?
* Beading: wire and bead jewelry, wire crafting, and decorative beading
* Clay: polymer and bread dough
* Painting: stenciling, faux finishing, and gold leafing. With the gilding techniques, even the simplest box can look like an heirloom.
* Paper: memory books and cards, decoupage, rubber stamping
* Floral crafts: dried flowers, silk flower arranging, potpourris and sachets. A rose floral silk pillow brings springtime indoors year-round.
* Glass: glass painting and etching. The lovely flasks with stars, leaves, and swirls would make a beautiful display.
* Home decorating: candlemaking and decorating (including gel) and soapmaking
* Wood: wood finishing and burning, plus clockmaking
* Fabric: painting on fabric, tie die, and sun painting
An appendix covers basic materials and techniques, including typing the perfect bow, lettering, and basic mat cutting.
Whether you want more projects using your favorite craft, or are interested in learning a new one, this volume is a must-have.