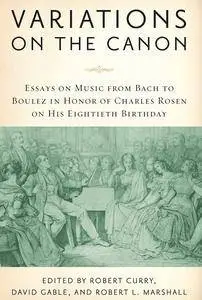 Variations on the Canon: Essays on Music from Bach to Boulez (in Honor of Charles Rosen on his Eightieth Birthday) (Eastman Studies in Music) by Robert Curry, David Gable, Robert L. Marshall
2008 | ISBN: 1580462855 | English | 395 pages | PDF | 5 MB
Charles Rosen, the pianist and man of letters, is perhaps the single most influential writer on music of the past half-century. While Rosen's vast range as a writer and performer is encyclopedic, it has focused particularly on the living "canonical" repertory extending from Bach to Boulez. Inspired in its liveliness and variety of critical approaches by Charles Rosen's challenging work, Variations on the Canon offers original essays by some of the world's most eminent musical scholars. Contributors address such issues as style and compositional technique, genre, influence and modeling, and reception history; develop insights afforded by close examination of compositional sketches; and consider what language and metaphors might most meaningfully convey insights into music. However diverse the modes of inquiry, each essay sheds new light on the works of those composers posterity has deemed central to the modern Western musical tradition. Contributors: Pierre Boulez, Scott Burnham, Elliott Carter, Robert Curry, Walter Frisch, David Gable, Philip Gossett, Jeffrey Kallberg, Joseph Kerman, Richard Kramer, William Kinderman, Lewis Lockwood, Sir Charles Mackerras, Robert L. Marshall, Robert P. Morgan, Charles Rosen, Julian Rushton, David Schulenberg, László Somfai, Leo Treitler, James Webster, and Robert Winter. Robert Curry is principal of the Conservatorium High School and honorary senior lecturer in the Centre for Medieval Studies, University of Sydney; David Gable is Assistant Professor of Music at Clark-Atlanta University; Robert L. Marshall is Louis, Frances, and Jeffrey Sachar Professor Emeritus of Music at Brandeis University.