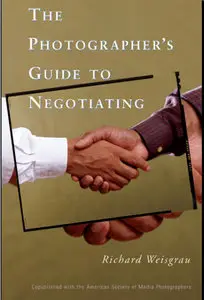 Richard Weisgrau, "The Photographer's Guide to Negotiating"
Allw.rth Press | 2005 | ISBN: 1581154143 | 256 pages | PDF | 1,3 MB
Negotiating is a crucial skill for anyone running a business, but they don't teach this art in photography school. The Photographer's Guide to Negotiating gives specific tips for negotiating assignment deals, digital and electronic rights, stock photography sales, contracts, purchases, and more. Interviews with an art buyer, a photographer, and a photographer's rep give photographers extra insight-and maybe even the upper hand in many negotiations. Everyone negotiates in everyday life. This book shows photographers how to take those skills and successfully apply them to business deals.
Download