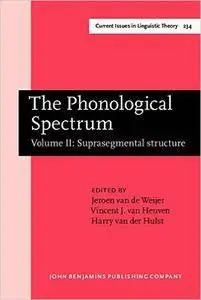 Jeroen van de Weijer, Vincent J. van Heuven, Harry van der Hulst, "The Phonological Spectrum: Volume II: Suprasegmental structure"
English | 2003 | ISBN: 1588113523 | PDF | pages: 275 | 2.0 mb
The two volumes of the Phonological Spectrum aim at giving a comprehensive overview of current developments in phonological theory, by providing a number of papers in different areas of current theorizing which reflect on particular problems from different angles. Volume II deals with phonological structure above the segmental level, in particular with syllable structure, metrical structure and sentence-level prosodic structure. Different syllable structure theories, as well as possible relations between segment structure and syllabic structure, and evidence from language acquisition and aphasia are examined in section 1. Metrical structure is examined in papers on foot structure, and, experimentally, on word stress in Indonesian. Finally in this volume, there are three laboratory-phonological reports on the intonation of Dutch.