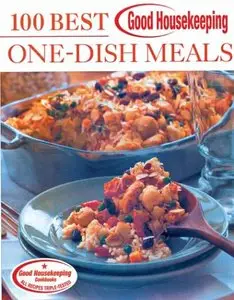 Anne Wright, "Good Housekeeping 100 Best One-Dish Meals"
H.arst | 2003 | ISBN: 1588162176 | 1766 pages | PDF | 5,3 MB
Cooking becomes tastier and easier than ever with Good Housekeeping's help. One hundred delicious and nutritious illustrated recipes for single-dish meals let busy home chefs put dinner on the table faster. Every element is coordinated, the preparations simplified, and the results are fantastic. Select from a tempting variety of soups, stews, casseroles, oven-cooked meals, stir-fries, skillet suppers, pastas, sandwiches, salads, and pies. There's Curried Vegetable Stew, Peruvian Fisherman's Soup, Chicken with Rosemary Dumplings, Two-Alarm Chili, Shrimp Risotto with Baby Peas, Taco Salad, Southwestern Turkey Fajitas, and lots more to tempt any palate. Each recipe includes prep and cooking time, number of servings, and key nutritional information. Enjoy!
Download