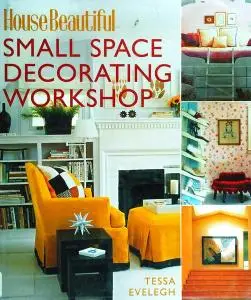 Small Space Decorating Workshop (House Beautiful) by Tessa Evelegh
English | 2005 | ISBN: 1588164950 | 160 pages | PDF | 101 MB
Small and awkward spaces are a perennial decorating challenge, but House Beautiful has the solution. This follow-up to the popular Window Workshop demonstrates countless ways to make everything from tiny alcoves to stair landings function well and look fabulous.
Every house has them–the forgotten corner, the wasted room, the unwieldy entryway that never gets properly decorated. But House Beautiful has great-looking, creative approaches for making these tricky areas work, because every square inch counts when you're trying to keep things organized and comfortable. Photo after magnificent photo showcases different kinds of spaces and solutions. Learn how to use color and lighting effectively. Implement clever storage ideas. Create the illusion of space with floor and window treatments. Think about flexible furniture that folds up and stows away when it's not needed. There's an analysis of, and a design scheme for, every room in the house. A Selection of the Homestyle Book Club.