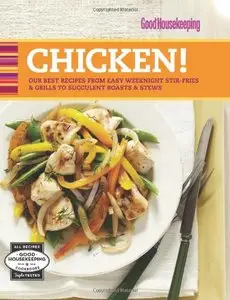 The Editors of Good Housekeeping, "Good Housekeeping Chicken!"
English | ISBN: 1588165485 | 2012 | EPUB | 160 pages | 8,8 MB
Chicken is always a mealtime favorite because it's versatile, and easy and fast to prepare. Now home cooks will never run out of ways to serve this popular staple, thanks to this invaluable cookbook. It's filled with Good Housekeeping's most successful triple-tested chicken recipes, including Basil Chile Chicken Stir-Fry, Chicken Tostadas with Avocado Sauce, and Grilled Whole Chicken with Lemon and Garlic. Includes a step-by-step guide to roasting and carving a chicken, as well as other helpful how-tos.