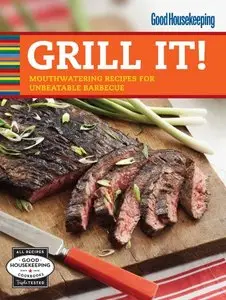 Good Housekeeping, "Grill It!: Mouthwatering Recipes for Unbeatable Barbecue"
English | ISBN: 1588169391 | 2012 | EPUB/MOBI | 160 pages | 13 MB/13 MB
Fire up the grill! America loves to barbecue, and the experts at Good Housekeeping have a bestselling collection of 100 sure-fire recipes-including ones new to this edition! Of course you'll learn how to make the perfect burger, but you'll also find Grilled Pesto and Mozzarella Pizzas, Mojito-Rubbed Chicken with Pineapple, Baby-Back Ribs Supreme, Shrimp Sonoma, Campfire Corn with Herb Butter, and much more. All the basics are here, including advice on accessories, terrific marinades, ideas for flavoring the fire, and instructions for preparing many faves indoors in a grill pan.