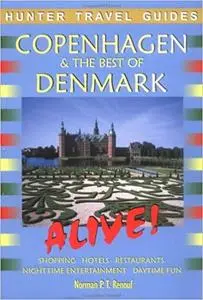 Norman Renouf, "Copenhagen & the Best of Denmark Alive!"
2003 | pages: 265 | ISBN: 1588433552 | PDF | 3,9 mb
The Kingdom of Denmark has a long and fascinating history, and Copenhagen is one of Europe's most charming capitals. This guidebook takes readers on an intimate and well-researched tour through its historic streets. Visit palaces, cathedrals and museums, as well as bustling waterfronts and quiet parks and gardens. The author's favorite restaurants, offering every type of cuisine from the traditional to the cutting edge, are described in detail. Outside the city, day-trips and two- to three-day excursions introduce the traveler to the variety of life in Denmark. Visit towns built around ancient Viking settlements; the birthplace of Hans Christian Andersen and his fairy tales; villages that seem to have been forgotten by time; and sophisticated cities that mix the very old and the very new with a sense of fun. Trips to Helsingborg and Malm, Sweden, just across the sound, add another dimension to this travel experience. Each chapter includes sections covering: Fascinating facts about national and royal history; Shopping for regional and international treasures; Self-guided walking tours of historic districts; Getting around by public transportation on land and on water; Best places to stay and eat; Visits to local points of interest. FROM THE BOOK: These days the old inner city of Copenhagen is an absolute delight to visit. Within easy walking distance from most hotels there is an eclectic collection of handsome buildings, delightful squares, imposing statues and fountains, beautiful green areas, a fantastic array of museums, enticing shopping, busy waterways, a mouth-watering collection of restaurants, and more bars and cafes than can possibly be visited. In fact, Copenhagen was named the Cultural Capital of Europe in 1996. Copenhagen is Europe's "Cultural Capital". This handbook explores the city's handsome buildings, imposing statues, beautiful waterways, incredible museums, fantastic shopping and restaurants. Outside the city are more easy-to-reach attractions such as Roskilde, Odense, Ribe and Arhus, all of which are discussed in detail. Renouf also covers the nearby Swedish towns of Helsingborg and Malmo. The "Alive" series of guides tell you what's hot, and what's not, with suggestions for daytime activity and night time fun. There are restaurant and hotel profiles in all price ranges, including the best places to stay and eat if you're looking for pampering, adventure, nights in the city or value. The guides focus on the things that make each destination unique. There are details on local celebrations, along with contact numbers for help in trip-planning. "Sunup to Sundown" sections describe daytime activities from sightseeing and shopping to swimming and beachcombing. "After Dark" sections give the low-down on nightlife from mild to wild. An "A-Z" reference at the end provides a comprehensive list of useful contacts, including ATM and bank locations, doctors and medical facilities, tourism offices, religious services and websites.
My Link