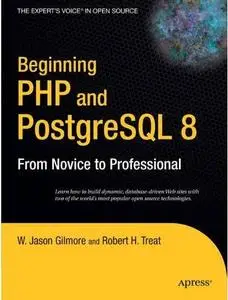 Beginning PHP and PostgreSQL 8: From Novice to Professional by W. Jason Gilmore (Author), Robert H. Treat (Author)
Publisher: Apress (February 27, 2006) | ISBN-10: 1590595475 | PDF | 9 Mb | 896 pages
Beginning PHP and PostgreSQL 8 delves into some of the most popular open source web development technologies, the PostgreSQL 8 database server and PHP 5 scripting language. You'll learn to reap the benefits of these core technologies by using them in unison to create dynamic, data-driven web applications. This is an ideal read if you are a web designer, programmer, hobbyist, or novice who wants to create applications with PHP 5 and PostgreSQL 8.
AIO BookReaders Pack
4.8 Mb: (PDF: Foxit PDF Reader Pro v2.0 Build 1414; PDB: iSilo v4.32; DjVu: DjVuReader v2.0.20 and WinDjView v0.5)
DL:
Easy-Share
or
Depositfiles
or
Rapidshare
Important
: All questions, requests, etc. for ME send to my PM (Send Message link), please (not in comments). I will try to answer all letters. But do not be offended if you do not obtain the answer. :)

No MIRRORs below!