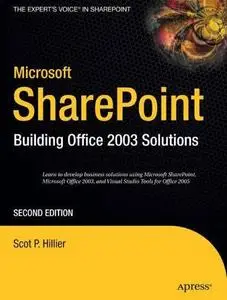 Microsoft SharePoint: Building Office 2003 Solutions, Second Edition (Expert's Voice in Sharepoint) by Scot P. Hillier
Publisher: Apress; 2nd edition (January 1, 2006) | ISBN-10: 1590595750 | PDF | 3,8 Mb | 416 pages
This detailed second edition is Scot Hillier's follow-up to his market-leading SharePoint book. The new version includes extensive updates to the previous edition, with emphasis on Visual Studio Tools for Office 2005 and new approaches for using SharePoint to improve business efficiency. Also featured are new workflow solutions for SharePoint and BizTalk, and a new chapter on building a SharePoint solution from start to finish.
In this second edition, Hillier's goal remains to provide intermediate-level guidance for those who want to design and deploy business solutions based on Microsoft SharePoint technologies. Hillier defines the business cases and scenarios for these technologies. He reviews the installation, configuration, and administration of business solutions based on Microsoft SharePoint technologies, and provides programming instruction, guidance, and examples for custom web parts and solutions.