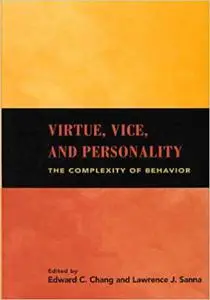 Ed. Chang, Edward C., "Virtue, Vice, and Personality: The Complexity of Behavior"
English | 2003 | pages: 200 | ISBN: 1591470137 | PDF | 21,0 mb
This title offers researchers and students a resource that explores the rich diversity of personality as both a virtue and a vice. The editors argue that a more balanced perspective of personality may help prevent overly biased or unbalanced clinical or educational formulations and profiles and, in contrast, may help foster a genuine empathetic connection with clients and students. Researchers focus on some of the most notable personality variables including self-esteem, optimism, intelligence, personal control, rumination, perfectionism and neuroticism. The editors appeal for researchers and scholars to examine their assumptions about personality, which are rooted in philosophical notions of good and bad, and argue that a balanced view is essential for true understanding of human nature.
My Link