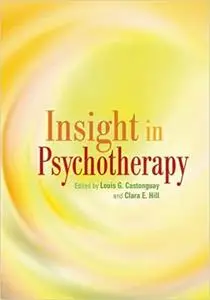 Louis G. Castonguay, Clara E. Hill, "Insight in Psychotherapy"
English | 2006 | ISBN: 1591474779 | 479 pages | PDF | 26.8 MB
Insight, or the acquisition of a new understanding, is recognized as an important vehicle of change across a variety of theoretical approaches in psychotherapy. While it has been associated with psychotherapy for much of the past century, insight is not clearly understood. The distinguished contributors to this book delineate and integrate what is currently known about insight, and discuss new directions that could help clinicians and researchers better understand this rich and complex process.
At a theoretical level, the individual chapters cover insight from psychodynamic, humanistic–experiential, cognitive–behavioral, family therapy, and integrative perspectives. A review of empirical literature is included, as well as a number of studies (involving quantitative and qualitative analyses) on insight. In addition, the book addresses important clinical issues, such as the link between insight and action, and the role of therapist and client in fostering insight. Other chapters examine how social psychology, cognitive psychology, developmental psychology, and philosophy can enhance our understanding of insight. The final chapter integrates the perspectives of prominent psychotherapy researchers on four central questions: What is insight? What facilitates it? What are its consequences? What remains to be known about it?