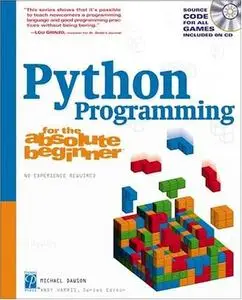 # Title:
Python Programming for the Absolute Beginner
# Author:
Michael Dawson
# ISBN:
1592000738
# Publisher:
Course Technology PTR
# Book Binding:
Paperback
# Average Customer Review:
Based on 14 review(s).
# Category:
Computer Books: Languages
# Edition:
1 edition (August 11, 2003)
# Format:
CHM
# Pages:
480 pages
# Size:
5.47 MB
# Summary:
If you are new to programming with Python and are looking for a solid introduction, this is the book for you. Developed by computer science instructors, books in the for the absolute beginner series teach the principles of programming through simple game creation. You will acquire the skills that you need for more practical Python programming applications and you will learn how these skills can be put to use in real- world scenarios. Best of all, by the time you finish this book you will be able to apply the basic principles you?ve learned to the next programming language you tackle.
http://www.ftp2share.com/file/...r_-_ISBN10-1592000738.rar.html