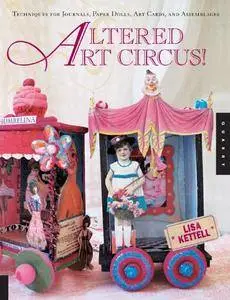 Altered Art Circus: Techniques for Journals, Paper Dolls, Art Cards, and Assemblages by Lisa Kettell
2009 | ISBN: 1592534872 | English | 128 pages | EPUB | 14 MB
Art Circus! takes the reader on a magical journey into the artistic world where they can discover their creative muse which is waiting to come out and play. It is at heart a technique book for altered artists, but is housed within a wonderful, spectacular fantasy land. The book will bring the reader, the daydreamer, the explorer, the artist, to a place have never been, where they can unleash their artistic dreams and explore hidden worlds through cutting-edge techniques, creative projects, and beautiful images.
The book will include easy tutorials on basic digital altering effects for new and vintage images, step by step instruction for projects, a gallery of inspirational projects from other artists, and clip art and vintage images for readers to use in their own projects. The book will cover digital and paper alteration, creating from found and household objects (jars and boxes), will feature playful illustration, vintage imagery, and use a myriad of other mixed-media materials ranging from glitter and wire to crinolin and coloring agents.