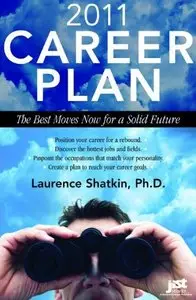 Laurence Shatkin, "2011 Career Plan"
Ji st W orks | 2010 | ISBN: 1593578156 | 192 pages | PDF | 1,2 MB
What does the economic recovery mean for your career?
Which fields will explode with opportunities in 2011 and beyond?
What should you be doing now to discover and achieve the job that s right for you
This timely guide, written by one of the nation s leading occupational experts, has the answers to these questions and many more. 2011 Career Plan shows people how to position their career for great rewards as the nation rebounds from recession. It unveils the whys and hows of career planning for 2011, giving readers a much-needed edge in a job market that s more competitive than ever.
Author Laurence Shatkin, Ph.D., also discusses the hottest jobs and fields; connects readers to jobs that suit them best; and explains the steps, credentials, and skills readers will need to achieve their goals. Ideal for anyone who's unemployed, underemployed, or eager for change, this book shows people how to build a career plan now for future, long-lasting success.
Download