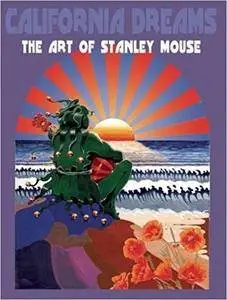 Stanley "Mouse" Miller, "California Dreams: The Art of Stanley Mouse"
2015 | ISBN-10: 1593765460 | 224 pages | PDF | 33 MB
The first comprehensive compendium of works by one of the groundbreaking pioneers of psychedelic poster art in the late '60s, California Dreams is a career-spanning collection of 240 pieces pages created over more than five decades of nonstop artistic inspiration. Stanley Mouse is, of course, best known for the eye-popping and iconic posters, album covers and T-shirt designs he—often in collaboration with Alton Kelley—made during the hey-day of San Francisco's counterculture renaissance and well into the 1970s. His influential work during that era captured the color, fun, mystery, passion and creatively liberating experimentalism of those tumultuous times.
But this book also explores other sides of Mouse's art, as well. Before taking Haight-Ashbury by storm, Mouse enjoyed tremendous success in his native Detroit detailing hot rods and airbrushing shirts and posters with whimsical drawings and paintings of crazy monsters and extreme cars. And more recently, in addition to satisfying ongoing demand for music-related commissions, Mouse has delved deeply into fine art, painting vivid landscapes and wonderfully evocative figurative pieces. Many of the works here have never been published before, and an added bonus is the inclusion of early versions of several of Mouse's best-known pieces, and a glimpse into his personal