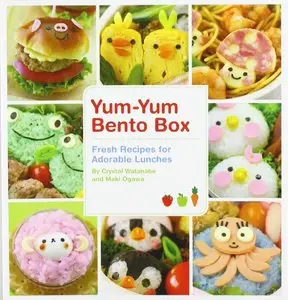 Maki Ogawa, Crystal Watanabe, "Yum-Yum Bento Box: Fresh Recipes for Adorable Lunches"
English | ISBN: 1594744475 | 2010 | EPUB | 144 pages | 15,5 MB
Oh, boy—obento! These yummy, healthy lunches are all the rage in Japan, where mothers create them as expressions of love for their children. With Yum-Yum Bento Box, Crystal Watanabe and Maki Ogawa devote an entire cookbook to these delicious and adorable meals for all ages! Learn how to craft your favorite foods into a variety of shapes—from caterpillars, cars, and puppy dogs to pretty flowers, princesses, and kitty cats.
Yum-Yum Bento Box features chapters on Cuties & Critters, Fairy-Tale Friends, and Special Day Treats, plus a handy shopping guide, easy recipes for mini snacks, general tips and tricks, and so much more. Stop wasting money on pre-packaged lunches—and start making beautiful, healthy bentos!