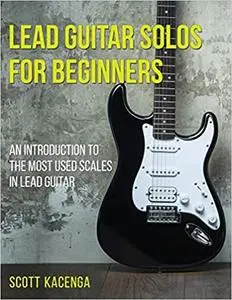 Lead Guitar Solos for Beginners: An introduction to the most used scales in lead guitar
By Scott Kacenga
English | 2020 | ISBN : 1594890374 | 45 Pages | EPUB | 10 MB
This book gives any guitarist a basic understanding of the most important scales in Lead Guitar playing. Whether you are looking to improve your improvisation or write your own lead lines, the eight scales covered in this book are the most widely used in Modern Music. Using notation, TABs, pictures, and mp3's, you will be playing these scales quickly and along with real music. Each scale is presented and explained in easy to understand language, with jamtracks so you can put them into practice immediately. Plus, you get 8 written solos to learn (1 for each scale). These come with worksheets to help you understand how to read the notes on a staff, and mp3's of the solo so you can play along. All scales and solos are played in the same position, so you gain a better understanding of their similarities and differences. A great introduction to the world of lead guitar playing, start off on the right track with Lead Guitar Solos for Beginners!