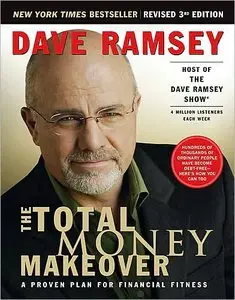 Dave Ramsey, "The Total Money Makeover: A Proven Plan for Financial Fitness, 3rd Edition"
English | 2009-12-29 | ISBN: 159555078X | 288 pages | EPUB | 1,8 MB
Radio talk-show host and bestselling author Ramsey (Financial Peace) is less a financial analyst and more of a preacher, which explains both his popularity and the appeal of this book, which just might gain a wide audience. The bedrock of his system is simple: work hard, pay what you owe and stay out of debt. His main commandment is "Pay cash."
He first exhorts the reader to take "baby steps," which are designed to build on each other: first, save $1,000 as an emergency fund; then, pay off all debts from smallest to largest; save a larger three-to-six-month emergency fund; finally, start to save for college and pay off your home mortgage.
Ramsey understands the difficulty in putting these steps into action, and therefore packs his book with personal testimonials from everyday people who have used his system and have become debt free, with obvious struggles. The key is what Ramsey calls "Gazelle intensity," which is to live a financial life the way a gazelle saves itself from an attacking cheetah-"outmaneuver the enemy and run for your life." While Ramsey provides some helpful charts and graphs so readers can keep track of their efforts to follow his steps, the strength of this book is that it is a straightforward motivational tool. He provides the brutally direct truth about the hard work it takes to become free of debt, and his directness is a great part of the book's charm.
"Winning at money is 80 percent behavior and 20 percent head knowledge." So states Ramsey, author and radio show host, offering a comprehensive plan to get out of debt and achieve financial fitness. Our current financial position represents the sum total of the decisions we've made to this point, he tells us, and we must take personal responsibility for our financial problems. His seven-step plan includes paying off all debts except the home mortgage at an accelerated speed, creating a financial safety net that covers three to six months' expenses, investing 15 percent of income in a retirement fund, and saving for children's college expenses. He effectively shows how regular people can rid themselves of debt and grow their wealth using current income. While many of Ramsey's concepts are not new, his simple approach and client testimonials will resonate with a broad range of library patrons. This is important information in a society buried in debt, with unprecedented numbers of people facing bankruptcy. –Mary Whaley