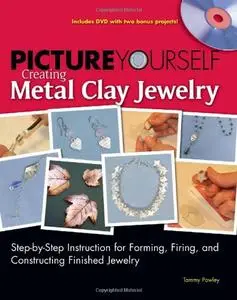 Picture Yourself Creating Metal Clay Jewlery by Tammy Powley
Language: English | 2008 | ISBN: 1598635069 | 280 pages | PDF | 15,2 MB
Unlock the secrets of creating your very own metal clay components and unique finished creations with "Picture Yourself Creating Metal Clay Jewelry: Step-by-Step Instruction for Forming, Firing, and Constructing Finished Jewelry." This book provides you with all the tools, techniques, and information you need to produceone-of-a-kind metal clay necklaces, bracelets, earrings, and more at home. After a brief introduction to the basics of metal clay, you'll learn about all of the tools and supplies you'll need to gather together, such as files, wire cutters, craft knives, and polishing cloths. You'll also spend some time examining the available firing equipmentand techniques with a focus on low-fire clays, which only require an inexpensive hand-held butane torch or hot-pot. Once you have the metal clay tools together, the book will show you how to set up a safe, clean work area where you can create your jewelry components and finished pieces. You are now ready to roll, cut, fire, and finish your metal clay into usable beads, charms, and more. Information on basic jewelry making techniques and findings will help you put it all together as you get ready tocreate your own metal clay jewelry following the 14 projects plus additional project variations included in the book. All skills and techniques are taught using clear, step-by-step instructions illustrated by full-color photographs. A full-color gallery of finished pieces by metal clay artists will provide ideas and inspiration, while a helpful list ofvendors will help you find the supplies you need. And the accompanying DVD includes videos that offer directions for 2 bonus projects not taught in the book! "Picture Yourself Creating Metal Clay Jewelry" shows aspiring jewelry designers how to make distinctive, wearable works of art, from concept to completion.