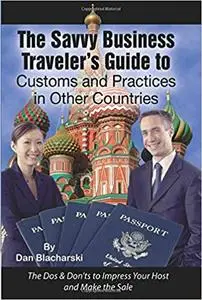 Dan Blacharski, "The Savvy Business Traveler's Guide to Customs and Practices in Other Countries"
English | 2008 | ISBN: 1601380135 | 288 pages | EPUB | 2.2 MB
Pack your bags and be whisked away to over 40 different countries.
Did you know red roses should be avoided as gifts in Switzerland, or that women should cover their mouths when they laugh in South Korea? Not every country shares the same customs, religions, and ideas as America, so it is useful to have a guide on how to behave if and when you are doing business in a foreign country. Now, The Savvy Business Traveler's Guide to Customs and Practices in Other Countries can be your hand-held guide to accompany you as you travel to countries near and far.
This book takes you through each country individually and explains its economic conditions, proper greetings, native foods, religions, etiquette, bargaining and deal making, and customs. By reading and understanding the behaviors expected when you are in each country, you will be better prepared to make the sale and leave a great impression of your company. This book makes it easy for you to navigate yourself around the world and flip the page to whichever country you may be visiting.
Atlantic Publishing is a small, independent publishing company based in Ocala, Florida. Founded over twenty years ago in the company president's garage, Atlantic Publishing has grown to become a renowned resource for non-fiction books. Today, over 450 titles are in print covering subjects such as small business, healthy living, management, finance, careers, and real estate. Atlantic Publishing prides itself on producing award winning, high-quality manuals that give readers up-to-date, pertinent information, real-world examples, and case studies with expert advice. Every book has resources, contact information, and web sites of the products or companies discussed.
This Atlantic Publishing eBook was professionally written, edited, fact checked, proofed and designed. The print version of this book is 288 pages and you receive exactly the same content. Over the years our books have won dozens of book awards for content, cover design and interior design including the prestigious Benjamin Franklin award for excellence in publishing. We are proud of the high quality of our books and hope you will enjoy this eBook version.