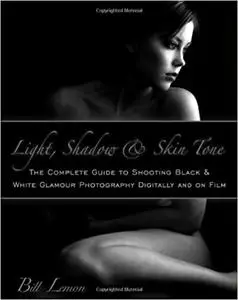 Bill Lemon, "Light, Shadow & Skin Tone: The Complete Guide to Shooting Black & White Glamour Photography Both Digitally and on Film"
English | ISBN: 1601383908 | 2009 | 144 pages | EPUB | 9 MB
In this groundbreaking new book, Bill Lemon explores the art of shooting black and white glamour photography. The book details the similarities and differences between digital photography and traditional film and provides numerous artistic, visual examples of each. Also covered is the post-production process for digital photography, with complete step-by-step instructions for effectively converting color images to black and white while maintaining depth, detail, and clarity to create a captivating image.
Featuring both studio and outdoor settings, Light, Shadow, and Skin Tone explains, image by image, how each photo was created. Lemon discusses the equipment used, the type of light, fill flash, exposures, as well as the time of day that produces the best image and how to use the light to your advantage. Also included are hints on posing and working with models.
The step-by-step, image-by-image information contained in this book is highly enjoyable, whether you are interested in learning the process or simply want to gaze at breathtaking, tasteful artwork.