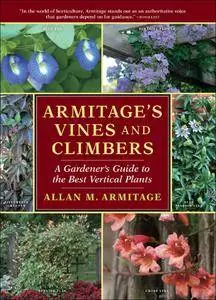 Armitage's Vines and Climbers: A Gardener's Guide to the Best Vertical Plants by Allan M. Armitage
English | 2010 | ISBN: 1604690399 | 212 pages | EPUB | 35,5 MB
Climbing plants are a largely untapped resource for today's gardeners. Because their habit of growth is primarily vertical, they can be used to provide privacy, screen eyesores, and draw the eye upward to create the illusion of space.
In Armitage's Vines and Climbers, renowned horticulturist Allan Armitage selects and profiles the most useful and attractive climbing plants for a wide variety of sites and conditions. The choices include both woody and herbaceous plants, both annuals and perennials. Profiles for more than 115 plants include a general description, hardiness, plant family, best method of propagation, method of climbing, and the etymology of botanical and common names. Climbing plants add an extra dimension to gardening — literally.
By following Armitage's sage advice, gardeners and designers will be well equipped to create dazzling gardens that transcend the boundaries of horizontality.