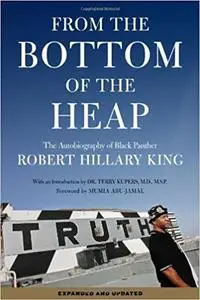 Robert Hillary King, Dr. Terry Kupers MD MSP, Mumia Abu-Jamal, "From the Bottom of the Heap: The Autobiography of Black Panther Robert Hillary King"
English | 2012 | ISBN: 160486575X | 256 pages | PDF | 7.63 MB
Expanded and updated with new photographs and stories, this autobiography of one of the Angola Three traces the life of Robert Hillary King from his early days in Louisiana, through a troubled adolescence, a conviction that kept him behind bars for decades, his relationship with the Black Panther Party, and his eventual release from prison. In 1970, a jury convicted Robert Hillary King of a crime he did not commit and sentenced him to 35 years in prison. He became a member of the Black Panther Party while in Angola State Penitentiary, successfully organizing prisoners to improve conditions. In return, prison authorities beat him, starved him, and gave him life without parole after framing him for a second crime. He was thrown into solitary confinement, where he remained for 29 years. In 2001, the state grudgingly acknowledged his innocence and set him free. A story of inspiration and courage, this simple and humble narrative strips bare the economic and social injustices inherent in society, while proving to be a powerful literary testimony to the triumph of the human spirit.