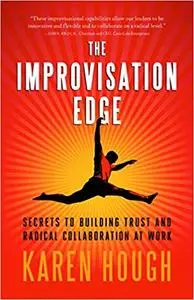 Karen Hough, "The Improvisation Edge: Secrets to Building Trust and Radical Collaboration at Work"
English | 2011 | ISBN: 1605095850 | PDF | pages: 186 | 0.7 mb
All kinds of books have been written about building trust and teamwork. But The Improvisation Edge is the only one that draws on the knowledge of experts in trust building: theatrical improvisers. Think about it: other than combat, no situation requires more extreme trust than improv. You have no script, costumes, or set—nothing but your fellow actors. Improvisers must manage risk, collaborate radically, create deep trust, and turn disasters into opportunities—which are also vital business skills.
Karen Hough describes four secrets that help leaders, trainers, managers, and frontline employees adopt the improviser's mind-set. You'll learn techniques to create a positive environment, encourage fearless participation, and turn "Oops!" into "Eureka!" The Improvisation Edge offers a hands-on way to build an organizational culture that makes breakthrough business results possible.