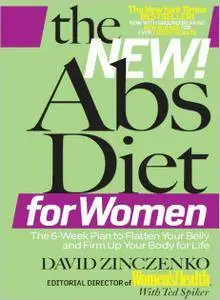 The New Abs Diet for Women: The Six-Week Plan to Flatten Your Stomach and Keep You Lean for Life by David Zinczenko, Ted Spiker
English | April 12, 2011 | ISBN: 1605293156, 1609613848, ASIN: B004VA20JE | AZW3 | 416 pages | 2.6 MB
Easy to follow, easy to stick to, and more satisfying than a great-fitting pair of jeans, The New Abs Diet for Women has been retooled with groundbreaking new science for even faster results!
Women's Health has loaded this new edition with more useful tips, body-sculpting exercises, and delicious new recipes using the Abs Diet Power 12 Foods, which are scientifically proven to burn fat, build muscle, fight heart disease, and boost the immune system. The New Abs Diet for Women also contains bonus workouts that target the legs and butt, moves that incorporate yoga and Pilates, and new interval workouts that burn off pregnancy weight.