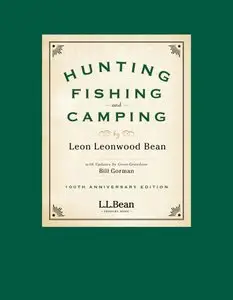 Leon Leonwood Bean, "Hunting, Fishing, and Camping: 100th Anniversary Edition"
ISBN: 1608930122 | 2012 | EPUB | 144 pages | 37 MB
L.L.Bean, Inc. has been a trusted source for quality apparel, reliable outdoor equipment and expert advice since 1912. To celebrate its hundredth anniversary, the Freeport-, Maine-based company has updated Hunting, Fishing and Camping, Leon Leonwood Bean's no-nonsense guide to enjoying the great outdoors. Originally published in 1942, this Maine classic offers instruction on everything from packing a canoe to stalking a bear. The new edition pairs the original text and nostalgic photographs with twenty-first-century perspective from L.L's great-grandson and Outdoor Channel television host, Bill Gorman. This entertaining and instructive book is not only a commemorative celebration of L.L.Bean's legacy and his commitment to conservation — it is a must-have manual for the modern sportsman.