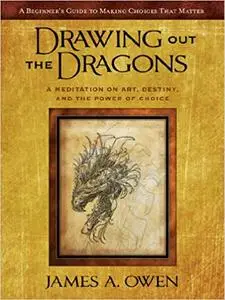 James A. Owen, "Drawing Out the Dragons: A Meditation on Art, Destiny, and the Power of Choice "
English | ISBN: 1609073681 | 2013 | 112 pages | EPUB, MOBI | 2 MB + 4 MB
I believe in you. You have a great destiny. You are meant for great things. And it s possible to live a wonderful, extraordinary life. That is the promise offered by bestselling author and illustrator James A. Owen in this remarkable and inspirational meditation. In Drawing Out the Dragons, James shares personal stories and the deep truths he learned while navigating past obstacles and adversity toward a life of lasting belief and joy. We all have a grand destiny, but sometimes we feel we lack the power to achieve it. But we always have the power to choose. Every drawing, every life, is nothing but a series of choices and actions. Make your lines. Make your choices. . . . What you create from there is entirely up to you. Drawing Out the Dragons has the power to uplift, inspire, and change your life.