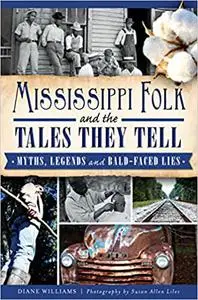 Diane Williams, "Mississippi Folk and the Tales They Tell: Myths, Legends and Bald-Faced Lies "
English | ISBN: 1609499328 | 2014 | 160 pages | EPUB | 2 MB
From the hills to the coast, the people of Mississippi have stories to tell. Most would never guess that Raleigh, Mississippi, once played host to the National Tobacco Spitting Contest. Over in Okolona, children are told of the man who lived–and died–deep down in a hole and scared passersby. From the gandy dancers who built the first train tracks in Mississippi to the eight-foot-tall man who lived in the woods of Columbia, read tales that range from common myth to a good bit of righteous gossip. Author and storyteller Diane Williams traveled across the Magnolia State to gather these local legends and has compiled them into an inquisitive, laugh-out-loud collection.
Read more