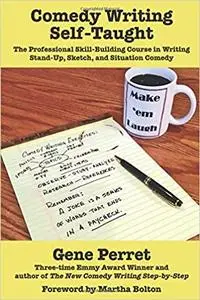 Gene Perret, "Comedy Writing Self-Taught: The Professional Skill-Building Course in Writing Stand-Up, Sketch, and Situation Comedy"
English | 2015 | ISBN: 1610352203 | 175 pages | EPUB | 1.1 MB
Comedy writing is an acquired skill. No one is born a comedy writer. The desire may be there from an early age, but the techniques must be learned, developed, and honed. Fortunately, the best teachers are readily available. They are the comics of the past and present, the television shows you see daily, both current versions and reruns. They provide your Ph.D. course in humor writing. In "Comedy Writing Self-Taught," Gene Perret, a three-time Emmy Award-winner and former head writer for Bob Hope and Phyllis Diller, teaches you how to teach yourself comedy writing techniques by observing, analyzing, and replicating those who have already mastered the skills. This book not only guides you in selecting the appropriate mentors for your writing and helps you decide what to look for in your studies, it also offers drills and exercises that will develop your creativity. A companion volume, "Comedy Writing Self-Taught Workbook," provides even more exercises and writing workouts. Whether you're writing stand-up routines, TV sketches, or sitcoms, this book clues you in to the fastest, most convenient way to teach yourself the skills you'll need. You'll do the watching, studying, and learning. You'll do the work – and it will require work – but you'll also reap the generous rewards, and have fun while teaching yourself to write comedy.