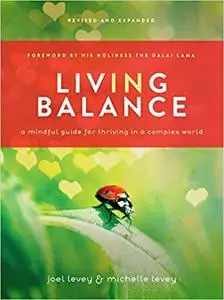 Joel Levey, "Living in Balance: A Mindful Guide for Thriving in a Complex World"
English | ISBN: 1611250293 | 2014 | 360 pages | EPUB | 1087 KB
As our world grows increasingly more complex and stressful, developing our capacity for dynamic balance in our lives, work, and relationships becomes more and more vital. Based on the ancient wisdom traditions, contemporary neuroscience research, and the insights of indigenous cultures throughout our world, Living in Balance shows that, in each moment, we have the capacity to be mindful of whether our thoughts and actions are moving toward harmony and balance or away from it. Through this awareness we can make a conscious choice to continue on the path we are on or to change our attitude and direction. With a foreword by H.H. the Dalai Lama, Living in Balance offers a rare synthesis of ancient wisdom traditions with cutting-edge research on peak human performance that points toward mindfulness as being truly the key to living in balance.