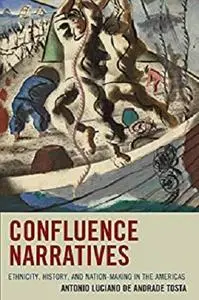 Confluence Narratives: Ethnicity, History, and Nation-Making in the Americas by Antonio Luciano de Andrade Tosta
English | October 19, 2016 | ISBN: 1611487552 | 315 pages | AZW3 | 1.15 MB
Confluence Narratives: Ethnicity, History and Nation-Making in the Americas explores how a collection of contemporary novels calls attention to the impact of ethnicity on national identities in the Americas. These historical narratives portray the cultural encounters—the conflicts and alliances, peaceful borrowings and violent seizures—that have characterized the history of the American continents since the colonial period. In the second half of the twentieth century, North and South American readers have witnessed a steady output of novels that revisit moments of cultural confluence as a means of revising national histories. Confluence Narratives proposes that these historical novels, published in such places as Brazil, Argentina, Mexico, the United States, and Canada, make up a key literary genre in the Americas. The genre links the various parts of the hemisphere together through three common historical experiences: colonization, slavery, and immigration. Luciano Tosta demonstrates how numerous texts from the United States, Canada, Spanish America, the Caribbean, and Brazil fall into the genre. The book focuses on four case studies from ethnic groups in the Americas: Amerindians, Afro-descendants, Jewish Americans, and Japanese Americans. Tosta uses the experience of the American nations as a springboard to problematize the concept of the contemporary nation, an identity marked by border-crossings and other experiences of deterritorialization. Based on the exploration of "confluence narratives," Tosta argues that the "contemporary" nation is not as contemporary as one may think. Informed by postcolonial theory and transnational and ethnic studies, this book offers an important comparative study for and of inter-American literature. Its analysis of the representation of cultural encounters within distinctive national histories underscores the complex nature of 'otherness' in the Americas, as well as the inherently transcultural aspect of a trans-continental American identity.