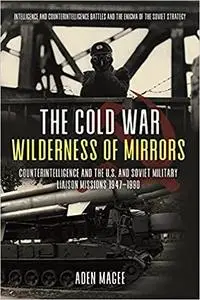 The Cold War Wilderness of Mirrors
by Aden Magee;
English | 2021 | ISBN: 161200993X | 337 pages | True (PDF, EPUB) | 15.85 MB
This book details the Soviet Military Liaison Mission (SMLM) in West Germany and the U.S. Military Liaison Mission (USMLM) in East Germany as microcosms of the Cold War strategic intelligence and counterintelligence landscape. Thirty years since the fall of the Berlin Wall, the Soviet and U.S. Military Liaison Missions are all but forgotten. Their operation was established by a post-WWII Allied occupation forces' agreement, and missions had relative freedom to travel and collect intelligence throughout East and West Germany from 1947 until 1990.
This book addresses Cold War intelligence and counterintelligence in a manner that provides a broad historical perspective and then brings the reader to a never-before documented artifact of Cold War history. The book details the intelligence/counterintelligence dynamic that was among the most emblematic of the Cold War. Ultimately, the book addresses a saga that remains one of the true Cold War enigmas.
Table of Contents
Past is Prologue
Introduction
PART I: HISTORY AND EVOLUTION
Chapter 1: The History of the Military Liaison Missions
Chapter 2: The Evolution of the Military Liaison Mission Game
PART II: THE WILDERNESS OF MIRRORS
Chapter 3: The Strategic Wilderness of Mirrors
Chapter 4: Opportunities Lost Prior to the Dark Era of Counterintelligence
Chapter 5: The U.S. Military Liaison Mission Microcosm
Chapter 6: Reflections in the Soviet Military Liaison Mission, Frankfurt Wilderness
PART III: THE FINAL DECADE AND THE BATTLE THAT TIME FORGOT
Chapter 7: The Rapid Maturation of Department of Defense Counterintelligence in Europe
Chapter 8: The Final Reflection in the Cold War Wilderness of Mirrors
Chapter 9: The Last Counterintelligence Battles of the Cold War
Epilogue
Appendix 1: Post-Cold War Revelations
Appendix 2: The USMLM Legacy
Appendix 3: The Huebner–Malinin Agreement
Glossary of Abbreviations and Terms
A Note on Sources
Selected Bibliography
Index